Well Being
and
Complementary Therapies
Sports and Personal Care Treatments
Auricular Thermal Therapy (Ear candling)
This stand alone treatment is unique in its ability to induce a sense of stillness and well being.
The crackling of the cone is deeply relaxing - similar, some say, to heavy rainfall or a crackling log fire.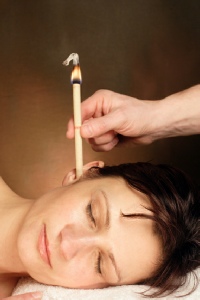 Many people could derive benefit from this simple therapy. If you would like to experience it yourself, or if you would like more information about it, please contact me.

This treatment must always be carried out by a fully qualified practitioner as health and safety contra-indications must be managed correctly.
Auricular thermal therapy was used in days gone by as part of a cleansing ritual carried out before family ceremonies such as weddings.
In the modern world there are claims that it can loosen ear wax and reduce congestion within the ear, nose and throat. These claims are, as yet, unproven.
However, many people report that they have seen significant relief in these areas following the administration of this therapy.
Claims about its efficacy aside there is little doubt that just being "in the moment' allows your mind and body to calm down and therefore release any tension and stress.
The addition of a gentle facial massage incorporating facial reflexology lymphatic drainage and Tsuboki (Japanese Facial Massage) completes this wonderfully grounding therapy.