Well Being
and
Complementary Therapies
Sports and Personal Care Treatments
The wonderful diversity of the Hydrotherm Massage System releases the full tactile skills of a qualified massage therapist. Men and women, babies and the elderly benefit from the unique Hydrotherm experience, for the mind, body and spirit. Everyone can enjoy a sense of well being, pleasure and sheer indulgence.
A deep, profoundly relaxing and beneficial massage technique, enhancing the effects of treatment into a new dimension - naturally.
Experience a wonderful feeling of total revitalisation, regeneration and harmony. Your entire treatment is carried out while you lay face up on warm, Hydrotherm water filled cushions, assisting in perfect spinal alignment.
Hydrotherm Pregnancy Massage
A specialised hydrotherm massage for the lady "in waiting"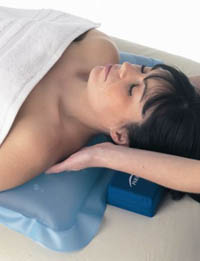 Please click the panel below to view a video of Hydrotherm Massage in action. The video is very informative and will help you decide whether this massage technique is for you.
Please note that the video is generic, was not filmed in my studio in Studley and has been made using various practitioners. It is, however, representative of the treatment that I offer.