Well Being
and
Complementary Therapies
Sports and Personal Care Treatments
Bodywork Therapy (Therapeutic Massage)
(All times approximate)
Aromatherapy (Essential oils)
Therapeutic Massage - Remedial deep tissue (Pre/Post Sport)
Conventional/Traditional Massage
(using advanced techniques)
Full Body (1hr 30mins)
Half Body (30mins)
Full Body Dry Brushing
(Helps remove stagnation and toxity throughout the body, which in turn improves circulation and general skin condition
Back Massage (30 - 45 mins)
On Site Chair (Fully Clothed no oils)


Hydrotherm (Water therapy)
Hydrotherm Pregnancy
A specialised massage for the lady "in waiting"
Half body massage
Full Body Massage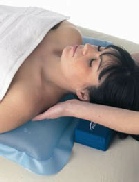 Baby/Infant Massage
(1 Hour Private Tuition)
Parents or Carers will learn to perform this unique nurturing art through private tuition. Newborns to 12 months are best suited, as well as older infants. All are welcome.
If required, sessions can be taught in the comfort and privacy of your own home.
Discounts available for small group sessions (3-6) Please call for details.

Thai Foot and Lower Leg massage
(45 minutes)